As a Support Office Member
At our Support Office, there are a broad range of opportunities across all our departments, from Design to Production, Marketing, IT and Finance, just to name a few.
At Bardot, we know that our people are key to our success which is why we invest time to attract, retain, nurture and develop the most talented and dynamic individuals.
If you know you'd make a valuable addition to our Support Office team, visit our Job Search page for current Support Office vacancies.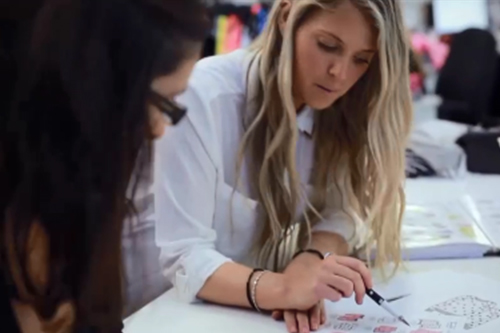 Roles
Retail Operations
Planning & Production
Design & Patterns
Marketing & Graphics
E Commerce
Finance
Information Technology
Supply Chain
Wholesale
Human Resources
Senior Leadership Team
Retail Operations
Retail Operations provides stores with all of the tools, processes, and support required to run our network of stores. This division is responsible for customer service, loss prevention, property and store development and in-store visual merchandising.
Planning & Production
Our Planning & Production team plan product requirements and buy the ranges for stores. Ensuring the right product is in the right store, at the right time, it focuses on ranging product across stores and forecasting sales to deliver financial results. Department roles include planning, allocating and production.
Design & Patterns
We don't just sell cutting edge fashion – we create it! Our talented Design & Pattern Making teams set the strategic design direction for our business. The team is responsible for designing all apparel and accessories, maintaining a consistent Bardot handwriting across our two brands. In addition to this they are also responsible for garment technology and fabric sourcing.
Marketing & Graphics
Our Marketing department communicates the Bardot brand vision to our customers via social networking, customer loyalty programs, direct marketing, advertising, communications, and public relations. Our Graphic Design team creates design solutions and finished artwork for all Bardot visual communications, including visual merchandising and marketing collateral.
E-Commerce
Our E-Commerce team ensure that customers experience the same great fashion service on bardot.com as they expect in our stores. This team works to deliver great shopping through cutting edge technology.
Finance
The Bardot Finance team covers accounts, taxation, inventory control, financial reporting, insurance & risk management, and corporate governance for the business.
Information Technology
Our Information Technology (IT) team continue keeping Bardot relevant through the use of technology. They support key company objectives by providing quality IT systems to assist, simplify, and improve our business processes.
Supply Chain
The Supply Chain team ensures our product is always delivered efficiently and on time to our stores and customers. This includes controlling shipping, logistics, and back-of-house.
Wholesale
Our Wholesale team sells ranges of our product to both boutique and department stores nationally and internationally. We are in a position to share our gorgeous product to many other countries around the world!
Human Resources
People are our priority! Our Human Resources team work with senior leaders to take care of, inspire and engage our people. They develop and manage programs to support our business goals and build a service oriented culture based on strong relationships and strategic goals. When our team are happy, they can focus on making our customers happy.
Senior Leadership Team
Our Senior Leadership Team comprises of the Chief Executive Officer, Chief Operations Officer, and each Head of Department. This team is responsible for the implementation of the Company's visions, values and business strategies.